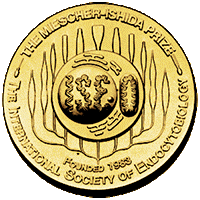 MIESCHER-ISCHIDA-PRIZE FOUNDATION
The MIESCHER-ISHIDA PRIZE has been established to recognize outstanding scientists who discovered or gave unique findings in the field of endocytobiology and to those who have contributed to the development of this science.
The establishment of the MIESCHER-ISHIDA PRIZE was suggested by Dr. Masahiro R. Ishida in 1986 and sponsored originally with gold-plated medals, "In commemoration of the discoveries of nuclear and extranuclear DNA". It was later supplemented with 30.000 DM funds by Prof. Dr. Masahiro R. Ishida on the occasion of his retirement.
The Prize is awarded in recognition for the DNA isolation by Dr. Friedrich Miescher in Tübingen 1869, and by Dr. Masahiro R. Ishida, who first extracted chloroplast DNA together with Dr. R. Sager in 1961.
The Foundation has no legal capacity. Its funds will be administered under the status of a special endowment by the 'Vereinigung der Freunde der Universität Tübingen (Universitätsbund) e.V.', a non-profit corporation.